New Jersey Election Lunchtime Update...
Heard this morning on NPR (National-Socialist People's Radio) "...and the new electronic voting machines in New Jersey were
really
not designed for people over six feet tall..."
So sayeth some whiney ass motherfucker who is apparently more concerned about his personal comfort than appreciative of the fact that he is able to freely cast his vote... fuck you, asshole. Go choke on your Scumbucks Latte Grande.
Still to early for any predictions yet in NJ. Stand by...
On a lighter note... is it just me, or does that idiot Menendez look like a certain comic book villain?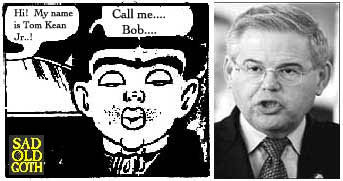 just asking... I mean, if the shoe fits...
be back later...
wander with me...