Turkey Day, minus 2...
I've been busy, busy, busy... this past weekend I did the shopping for Thanksgiving, ripped new lumber and shaped trim for the doorway between the kitchen and dining room, did one last clean up on the grounds and a bunch of odds and ends type crap. I'm off tomorrow to do baking and make a last minute round trip to grocery store, liquor store and the local farm market. Then, I'm done. I'm going to eat, drink and be merry with kith and kin. I'm going to try to forget the horrors that hover just outside our lives for a day, if I can. On Friday, I'm going to start delving into further research for the next installment of "The Devil's at the Door" posts. Thanks to everyone who has responded and given feedback and criticism, especially the KisPer's - you all rock. I've been tracking my hits over the past week and I find that I've had links and referrals on several notable blogs, I thank you all.
Well, enough of this sentimental stuff. I have to leave you with something that I posted last year. Just a little Thanksgiving entertainment. I'll catch you all on the other side of the turkey, fellow wanderers. Give thanks. There's a lot who deserve them.
Fare thee well... and enjoy!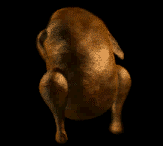 (please push play to complete the horror of this scene...)

Powered by Castpost
wander with me...