It's the Annual Nightmare Before Thanksgiving post..!
The way things are going, I'll probably still be putting down flooring Thanksgiving morning, so don't look for me until the weekend. After I stuff myself on bird, I'm sleeping for twenty four hours...
Anyway, have a happy!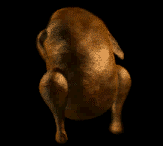 (please push play to complete the horror of this scene...)

Powered by Castpost
wander with me...
Labels: got goth..?