dear readers...
I know you're out there...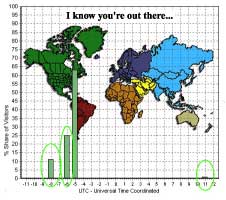 My Site Meter map is showing hits from the Eastern, Central and Pacific time zones... and, if you look real closely, there is a small percentage coming from somewhere way over there... perhaps some lonely soul stuck out on the Kamchatka peninsula, with nothing to do but drink Stoley and surf the net... hmmm, not so very unlike myself.
I'd really like to know who you are and where you're from, so, please, please, please, please,
please
log onto my Guest Map and stick one of those queer little icons someplace and say hi.