exit sandman...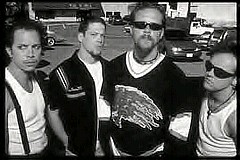 well, well, well, it seems that my favorite heavy metal assholes are up to their usual sniveling, self-righteous pandering. Not content to rest on the laurels of their victory against the free transfer of music to your friends, they are now attacking a Canadian band, "Unfaith", for using the "E" and "F" chords, which Metallica feels are "traditionally associated with their music." Click
HERE
to read more.
I think this lot of whiny, spoiled, millionaire jackasses should grow their hair long again, start pounding the booze and tokin' the smoke once more… maybe get their shit together and get back to playing some real music again, instead of the pseudo metal bullshit they've been foisting on their poor fans for the past few years. At least when they were honest musicians and dopers, they were more worried about their music than their wallets. What a bunch of fuckheads...
Well... I feel much better now... I think I'll go listen to some Megadeth...