new shit, old shit and some weird shit...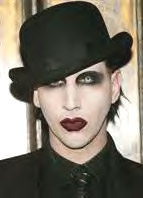 so, last night we tripped to the city of brotherly love, philadelphia, to see marilyn manson...
we got there about an hour early, so we went to the 69th street food court and supped royally on a chicken cheese steak and some pizza cheese fries at benjamin's, the hippest food place around. then we walked back up the street to the tower theatre, where the creatures of the night were congragating for the show; hard core goths, the usual posers and hallowe'en costumes everywhere you looked, it was quite interesting to say the least. of course, you have to get frisked these days and the fellow who was checking me over said, "it's really great to see old guys coming to see manson..." EXCUSE ME?!?!?! i was banging heads with the best of them when most of the people at the place were still being potty trained.. old indeed...
anyway, we made our way inside and hooked up with the bloodhound and mickey and settled in to watch the show, both on and off stage.
we suffered through the opening act, a really suck ass band named S.T.U.N., who might be better described by adding a final "K"... they blew. the lead screecher (i reserve the term "singer" for those who actually do) proceeded to growl and mumble through their set, the only word that i could understand was "fuck", which he took the effort to enunciate clearly and loudly every ten seconds or so. from what little i could make out, he seemed to be trying to get some sort of political statement across, but i have to admit that i was distracted by his constant flailing the mike stand round and round, much to the peril of his band mates. he also trucked around a piece of plywood or, perhaps it was an ironing board, i really couldn't tell, while assailing the audience with a cheap flashlight... all very curious. the highlight of their performance was the end of the last number, when he felt it necessary to throw a full force body block on his drummer, the both of them tumbling to the stage. not a very auspicious start to the evening.
when manson finally came on, the crowd was ready to rock and they really got into every number with full enthusiasm. he did the new shit and he did the old shit, i really don't remember what songs he did in what order, but they were all great, the band was tight and he was his usual rowdy and rancid form. if you've seen him on stage, you know what i mean... it's a wonder the local vice squad hasn't busted him. there were two low points, however... first, the stage smoke was layed on so heavy that you couldn't see too much of anything at times, which is a shame as the sets and antics of his dancers are something not to be missed. the second low point was when some drunken asshole threw a bottle at him and clocked him in the eye. he called for the band to stop playing and threatened not to play another note until the person came up on stage and faced him. seeing that it was not going to happen, he called on the audience to point him out and beat the shit out of him... luckily for the idiot the security people and police ushered him out before he got pounded, even though that would have been too good for him. i'll never understand why jerks like that spend the money to go to a show and pull their shit, usually they just bother the people around them, but this asshole could have caused manson or anyone else on stage serious injury... i hope manson sues him and he spends some time in jail getting fucked up the ass so he learns a lesson...
anyway, that kind of took the edge off the evening and i think manson was pissed enough to call it quits after the last number and didn't come out for an encore, and i don't blame him...
so, that's that...