what am I listening to..?
a strange clicking sound inside my office wall...
---
well, Aimee...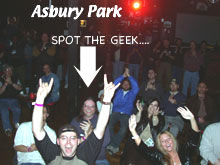 against my better judgement, here ya go. I have to say that, seeing this, I look about a hundred years younger without the big gray beard...
yes, it's goth-geek night out at the Tony Levin Band show!
well, now that I'm thoroughly embarrassed, I guess I'll get back to work.
*blushing...*
later