what am I listening to..?
cat and dog snoring and dreaming...
---
sorry, kidz...
you'll have to wait for the soft, cuddly puppies and cute little kittens...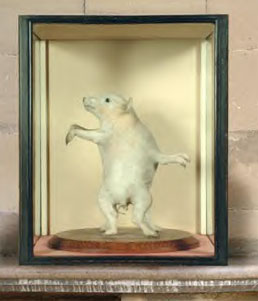 how about...
a cute little, eight legged hermaphrodite piggy-wiggy
, all done up by
The Victorian Taxidermy Company Limited
, of London! The perfect centerpiece for that hard to decorate corner of your dining room... or perhaps, just the thing for little junior's nursery! Why, just think of the nightmares this could spawn in your little imp! He'd be fodder for the shrinks for years on end! I want one!
Actually, if you are at all interested in beautiful taxidermy, take a stroll around their site. This isn't you typical deer head on the den wall stuff, these are museum quality mountings, complete with habitat, encased in some of the most wonderful furniture quality displays. Amazing stuff. Reasonable prices, too.
see you later.
---