what am I listening to..?
my own plaintive wailing...
---
grrrr...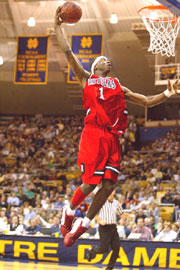 well, it's been a week since I've posted anything and now what I have to say is nothing good. I spent the day in the Big Apple at the first round of the Big East Basketball Tournament (tormentment?) and my beloved Rutgers lost... by three points. I waited out side in the cold and wind after the game for the team to come out and they were completely dejected, especially our adopted son Herve. (that's him jamming one against the Irish!) They've taken three beatings in a row and it has finally gotten to them. Some of the guys looked like they'd been crying, but they have nothing to hang their heads about. They busted their asses all season to get the chance to play today and all true fans are so proud of them. They are all great guys and we love them all. Now it's off the the NIT! My black little heart is getting a work out these days...
Well, not a very gothy post, huh? I might be back later to expound and expand on an idea from
Erin
in her blog... the goth as insect...
Oh, yeah, thanks to everyone who joined in the
Cafe
chat last friday night. Looking forward to the next one!
later
---