what am I listening to..?
me and the Bloodhound doing Abbott and Costello routines...
---
a new link...
under Rainy Day Distractions for your amazement and amusement...
LIVE! FROM THE BLACK FOREST! A HERD OF WILD BOARS!
Watch them eat! Watch them nurse their young! Watch them do all sorts of boarish things!
How fucking boring (boaring?) is my life?!?!?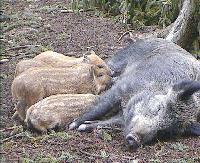 See what happens when you quit smoking!
---