the terror meter is running...
I don't think that terrorists are going to waste time
retrofitting limos or hijacking helicopters
to stage the next attack...
they have a ready fleet of vehicles at their disposal...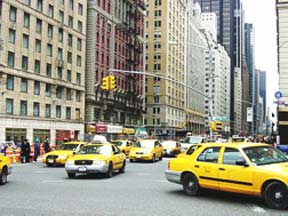 these vehicles are, for the most part, invisible. they've become such a part of the scenery in every city in the country that you don't even notice them until you need one. and, who would think twice if you saw a taxi with a driver who appeared to be from another country? a thousand taxis, each carrying five hundred pounds of explosives, spread out across a major metropolitan area would do devastating damage.
I do not feel safe...