Marc Almond...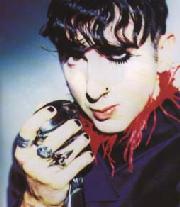 formerly of Soft Cell, the eighties techno-pop duo, is in the hospital in the UK, in serious condition after an accident. He was a passenger on a motorcycle that was involved with an automobile and was critically injured. His condition is stable as of now. Marc's career was going full on at the time of the accident, with several projects nearing completion, including a movie score and a live stage performance.
You can read more about this often flamboyant, but highly talented fellow by visiting his official
web site,
where you can also find an email address to send him your well wishes.
For those of you who aren't familiar with Soft Cell's music, their big hit in 1981 was "Tainted Love", which became the techno-pop anthem.
Please take a minute to send him your well wishes.
Thanks to
Chris and Shana
for posting this info on their page.
pearls before swine...