oh, those young Republicans...
First, there's Jenna...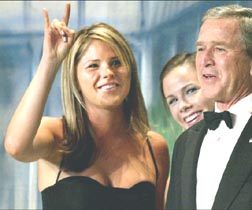 here she is at dad's big gig today... is she maybe a closet metal head? or is she telling one of the Secret Service guys to get her two beers...? Couldn't you just see her all gothed out? The idea really warms up my little black heart...
And, just look at these lucky little armadillos...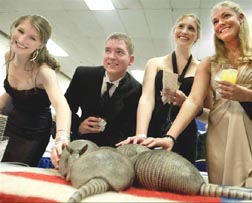 I'd be all happy too, if I was getting stroked by a group of half lit Republican hotties... the gay guy excluded, of course... I can only shudder at thinking where his free hand is...
It must be fun slumming amongst the elite... I shall have to be content with my lowly station in life, I guess...
pearls before swine...