yikes...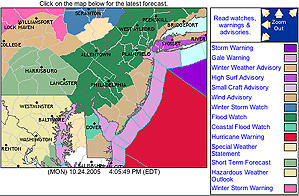 This certainly doesn't bode well... but at least it's colorful... it was gleaned from the
NWS/Mount Holly
site...
I think I'm going to go batten down the hatches and wait for tomorrow to post about filming this weekend, but suffice it to say, it was one of the more interesting experiences I've ever endured... pictures as well, providing that they're not
too
embarrassing.
Stay dry and stay safe.
later.
pearls before swine...