blah...
I have caught the demon bug... it has invaded my nose, my throat and my chest. It keeps me up late at night and makes my day even more miserable than usual. It also does things to my sense of humor. I whipped this up for
SondraK
.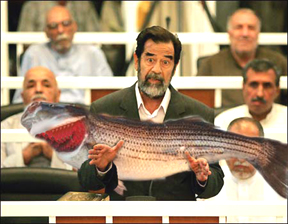 I don't know if it's even funny. I think so, but then again...
It needs a caption. I'm too f'd up to think of anything witty. You do it. I'll pick a winner and for your prize, I'll sneeze into a #10 envelope and mail it off to you so you can enjoy the demon bug, too.
I have to go peel the dried snot out of my beard now. You have a nice evening...
pearls before swine...