EWWWWW..!
sometimes stumbling around the web looking for a Thanksgiving picture is less than rewarding...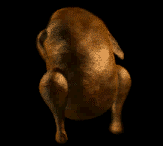 (please push play to complete the horror of this scene...)

Powered by Castpost
Sorry, I just had to share. Hope it didn't put you off your feed.
Have a wonderful, peaceful Thanksgiving. Think about those far from home.
Peace
pearls before swine...