going in style...
while surfing the web the other day looking for some unique late Victorian/Art Deco bathroom fixtures (yeah, I know, the kitchen is barely done and I'm planning the bath... what can I say?), I stumbled across this interesting number...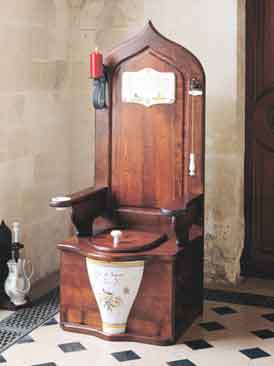 (click the picture for the details...)
Suffice it to say that Mrs. SOG wasn't thrilled with the idea of this gracing the bath chamber. I tried all the arguments, but to no avail. Perhaps taste will win out over passion, once again. It is fine, though, isn't it? Can't you just imagine the Pope hiking up his vestments and plopping his shiny white down for a nice "hi, how's yer Uncle Bob?" on this baby?
Damn. It even comes with a candle...
pearls before swine...