sing a song...
of love...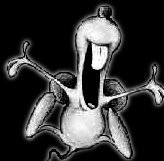 Apparently male birds, male whales and overly romantic male Goths aren't the only creatures who are uncontrollably driven to song in order to
woo a mate...
It seems that, had my hearing been attuned to the frequency of the little mouse song, I should have been treated to the most sublime arias and bewitching plaints over the years, what with all the little furries running around Stately Sad Old Goth Manor®, especially in the colder months of the year. If you play this little mp3, you can hear their song, which, through the magick of technology, has been rendered down to a pitch that the human ear can hear...
---
"come hither and share my cheese..."
---
Quite beautiful, do you think? I think if I were a little girly mouse, I'd be all wet and bothered right now...
pearls before swine...