good riddance...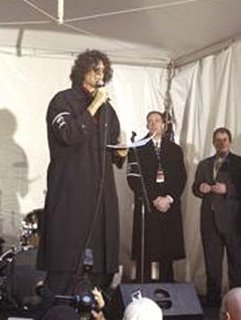 So, the self proclaimed "king of all media" is bailing out of the only slightly lucrative free radio market and leading his following of lowlife listeners into the Elysian Fields of pay to listen radio. I'll give him credit... he was fading into a well deserved obscurity and, using the so call "repression" of his free speech as motive, he will continue to bellow his swill and line his pockets with even more cash, thanks to the great unwashed who hang on his every word... they deserve the fleecing they are about to receive. All I can say is that it's a relief that I won't accidentally stumble upon his vile nonsense when I spin my free radio dial.
Oh, and just in case you missed it, that's a picture from his "farewell" extravaganza in NYC today. Note the rather natty overcoat, complete with fascist inspired symbol in the armband... sort of retro, don't you think? Say, 1939 Germany...
So long, asshole.
pearls before swine...