last minute...
Christmas Gift for the true American Mountain Man on your list...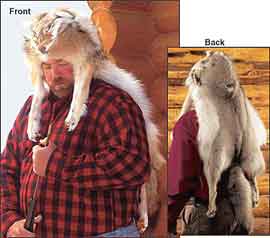 Cabela's
, the world's greatest sporting goods supply and outfitters company, is offering this Bridger Mountain Man Coyote Fur Hat, sure to please the wild man in your life, and piss off every PETA idiot within a hundred miles. Fuckin' rocks, huh?
And, for a limited time only, I'm pleased to offer my own version, the "Oh, Poor Me, How Long Have I Suffered and Where the Hell Is The Media Today?" model...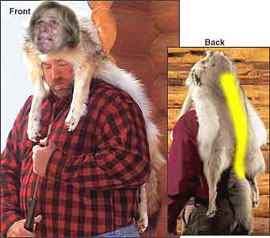 Perfect for the true American Patriot in your life. Comes complete with bright yellow stripe down the back (naturally it's left of center...) and trophy head mounted in mid-wail... Sorry, only one available. Well, not really sorry there's only one available, one is quite enough...
(My apologies to Cabela's, if it matters, but I don't they they'd be offended... )
And a very Happy Solstice to one and all, and to all a good night..!
pearls before swine...