it's Emeril LaGothy..!
It's Sunday, the NBA playoffs are on and it's time for something easy to eat in front of the idiot box - South of the Border Stuffed Baked Peppers!
Here's what you need:
4 big green bell peppers (or yellow or red, whatever you're in the mood for)
1 Lb of very lean ground beef.
1 medium onion, diced
1 cup uncooked yellow rice
1 15.oz jar of your favorite tomato sauce
garlic salt
fresh ground pepper
cumin
chili powder
ground red pepper
8.oz grated Monterey Jack with jalapeno peppers
4.oz can of jalapeno relish
Ok, let's rock! First, get yourself well lubricated with your favorite ale...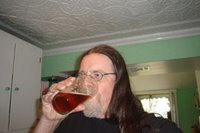 I prefer Foster's Best Bitters, but have at what you will!
Boil a cup of water and when it's ready, get your yellow rice cooking.
Cut your peppers in half lengthwise, scoop out the seeds and pulp and put into a large pot and cover with water; set it to boil and when it does, reduce the heat to a simmer and cook them for about six or seven minutes. Meanwhile, brown your ground beef in a large pan. When it's browned to your liking, drain the fat, add the onion, cooked rice, tomato sauce, and season to taste. Reduce the heat and let it cook for ten minutes. Add some cheap chianti if you like. It helps.
When the peppers are done, drain them well and place in an over proof casserole. Spoon the meat mixture into them, pressing it in well and pile it up!
Put it in the oven for 45 minutes at 350.
While it's baking, take a break and enjoy the beautiful weather and the rest of the chianti!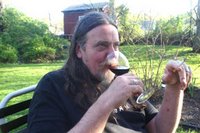 Have a cigarette, too! What the fuck, we're all going to die anyway!
After you finish your wine, and the oven timer goes off, take the pan out of the oven, sprinkle on your grated Monterey with jalapenos and put under the broiler for minute or two, until the cheese is all melted gooey goodness...
Spoon on the jalapeno relish and have at it!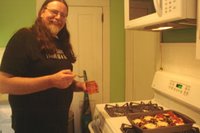 Yeah, that's fat, ugly old me at it in the kitchen! I really do cook all these recipes! I hope you enjoy this, it's really easy to make and it's reasonably inexpensive. Oh, I also made some killer garlic bread to go with it!
bon appetite!
what say you..?