mystical visions abound...
The image of the Virgin Mary has been discovered in some chocolate drippings at a
candy factory
in Kalifornia...
Apparently hoards of the faithful are flocking to the company to view the sweet vision of holiness, holding candlelight vigils and laying flowers at the feet of the effigy. There have been some reports of miraculous healings amongst those of the faithful, although one diabetic worshiper went into insulin shock...
In other news, a worker at a cattle ranch in Crawford, Texas, made quite an interesting discovery of his own this morning...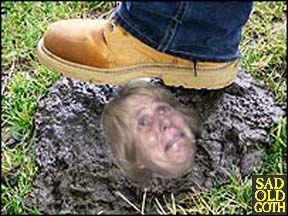 He was quoted as saying,
"Damn near ruined a new pair of Red Wings!"
Film at eleven...
wander with me...