eyeliner alert..!!
It's Ozzy and Harriet!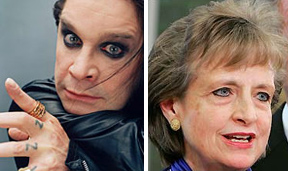 Is this the first Heavy Metal Administration???
First, this Metal Madness that seems to be effecting the Bush Administration took over cute little
Jenna...
then, it took over
Daddy...
and, then, it
REALLY
took over
Daddy...
which, in turn, spawned
Condi-Goth..!
Party On, Dudes! Heads
and
Gavels will be bangin' at the Supreme Court now!
pearls before swine...